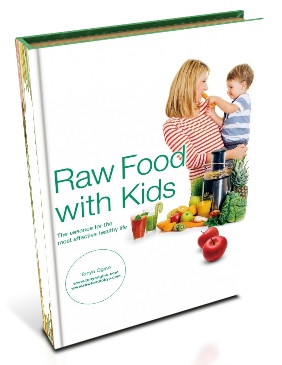 E-Book "Raw Food with Kids"
Inspired by life and the desire to raise her own child in the healthiest way possible, Tonya Ogino wrote this inspirational book for parents and caregivers that want to make a difference to the overall wellbeing of their own families. Raw food often sounds limited and bland – yet the author found hundreds of ways to make it fun, healthy and easy to include in your day to day life. Children learn through taste and exploration and there is no reason why this cannot be part of their daily diets as well.
As a Nutritional Herbalist, Raw Food Chef, Natural Nutritionist, Raw Food Coach, Blogger, Animal Lover, Mother, Raw Food with Kids class teacher and Nutritional Coordinator (vegan and raw), Tonya combines a lifetime of knowledge in this publication and places all the information and tools you need to stay healthy right at your fingertips. Covering nutritional aspects along with recipes for meals (breakfast, lunch & supper) right up to desserts and beverages (yes, you can even make delicious juices and smoothies from the recipes provided), this book will change the way you and your family eat forever. Along the way, you will find answers to questions such as the importance of vitamin B12 for children, why superfoods are essential for your child's development, how to include calcium and protein through plant-based diets, and lots more.
Download the book today and visit the author at www.tonyaogino.com for more tips and advice on how to include raw food in your daily diet.
 It currently is available for purchase on  worldwide Amazon! 9.98$

Comments